As part of the search for a new superintendent for the School District of Eleva-Strum the Board of Education is seeking input from the community. There is a community session planned for this Wed. March 21st at 5:30, but there is also an online survey. Please use the link below if you are unable to attend the community session.
https://www.surveymonkey.com/r/ElevaStrumComm

The Eleva-Strum Board of Education met with Al Brown of the Wisconsin Association of School Boards (WASB) on Wednesday, March 14th at its regular monthly board meeting to guide the Board on its superintendent search. Mr. Brown will be here on Wednesday, March 21st to meet with various focus groups to get input from these groups as to what leadership skills/styles they are looking for in the next superintendent of the Eleva-Strum School District. The community session will be from 5:30p.m. - 6:15p.m. on March 21st. Mr. Brown will ask each focus group participant to rank in order of importance such characteristics as Expertise, Leadership Style, Specialized Skills, Personal Characteristics, Strengths of the District, and Challenges of the District. The District invites you to join us for this community session in the Central LMC.

Eleva-Strum schools will be running two hours late today due to inclement weather.

Menu change notifications will now be sent out via our mobile app and the Live Feed on our web page. If you do not have our Free App please download it from your App Store and then reference the following article to configure the app to get the notifications you want.
http://www.esschools.k12.wi.us/article/32982?org=eleva-strum
You will need to select the "Menu Changes" notifications to get the alerts related to changes in our breakfast of lunch menu.

Hello. This is an important message for the parents and students of the School District of Eleva-Strum. We will be having a two hour late start today due to inclement weather.

The girls WIAA game tonight has been moved to Wednesday night at 7:00 p.m. Disregard any earlier information that we would play. There are still concerns about road conditions.

There will be no school at Eleva-Strum today due to inclement weather. Please stay safe and have a great day.

School will be closing early today due to incoming weather. The Strum Elementary will be released at 12:30 p.m. and busses will pick up at Central after that.

Tonight's basketball game will not be live streamed.

This is an important message for the parents and students of Eleva-Strum. Due to the weather Eleva-Strum will be having a 2 hour late start today.

Hello. This is an important message for that parents and students of the Eleva-Strum School District. There will be no school tomorrow due to inclement weather. Please stay safe and have a great day.

The Middle School Girls Basketball game that was postponed on January 11th has been rescheduled for January 22nd at Fall Creek. 5:00 E-S vs Fall Creek. 6:00 E-S vs Cadott.

This message is for High School Students only. Due to the weather we will be making up the second day of semester finals on Monday, January 15th. The start of second semester classes will start Tuesday the 16th. If you have any questions please email Mr. Kelly.

The Boys Basketball game scheduled for tonight vs. Gilmanton has been postponed. The make-up date is this Saturday, Jan. 13th @ Gilmanton. JV game at 1:30 p.m. Varsity game to follow at 3:00 p.m.

Due to inclement weather there will be no school at Eleva-Strum today.

Family Night Announcement. E-S Middle School Student Council would like to invite the middle school families to a family fun night hosted at the E-S High School on Tuesday, January 30, 2018, from 6-8pm. Events will include board games, Family Jeopardy Challenge, Ping-Pong, and open gym. Free admission and popcorn will be provided for all families that attend this event. Hope to see you there!

Could you get caught Being Unusually Good (aka the B.U.G award)? Each week one student from each class is chosen for a "no cost reward" and at the end of each month someone gets chosen for a BUG t-shirt and this months winners are pictured.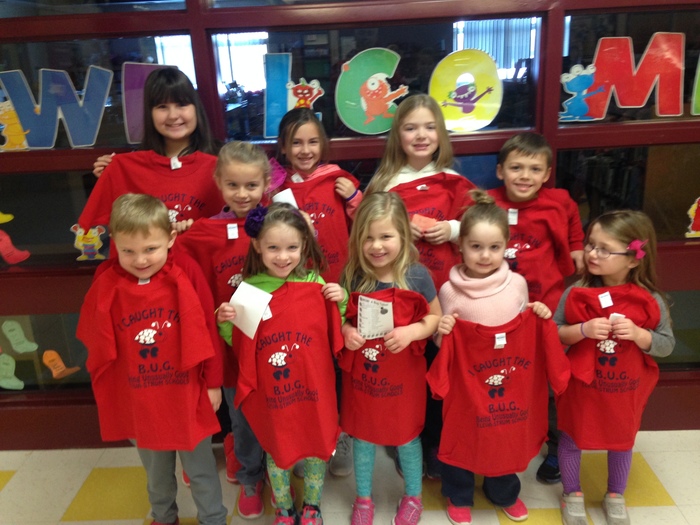 Our Little Cardinals use technology on a daily basis to enhance their learning. The students in this picture are working on grammar, definitions, sentence structure and more. The Pride Is Alive!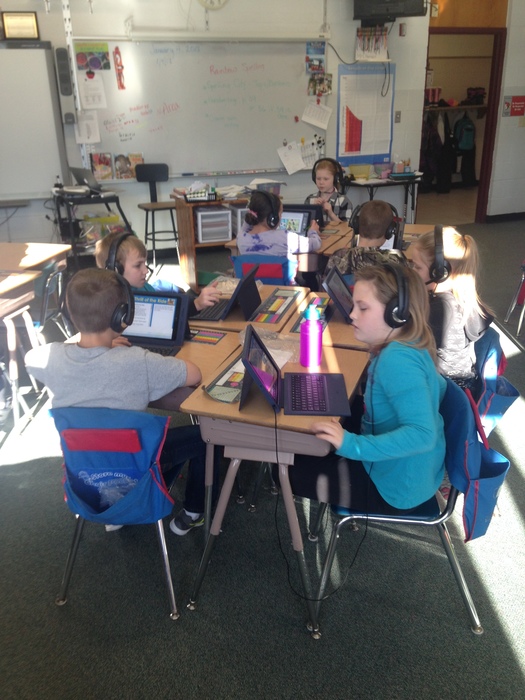 Calling errors. We'd like to apologize to many of you for the low lunch calls and texts that you received this afternoon. Calls/texts went out every minute from 12:21 - 12:27. We contacted the call center where the calls originate from and they identified a bug in their system. They are currently working on a fix, but said that a few of the remaining calls may still trickle through do to the system being backlogged. Again we apologize for this disruption in your day.

Happy New Year From E-S! Here's what's happening this week. Tuesday: MS Girls Basketball Practice Starts Thursday: JV/V Girls Basketball Home vs. Gilmanton Friday: JV/V Boys Basketball @ Arcadia Saturday: JV/V Girls Basketball Home vs. Fall Creek Northwest Basketball - 5th Grade