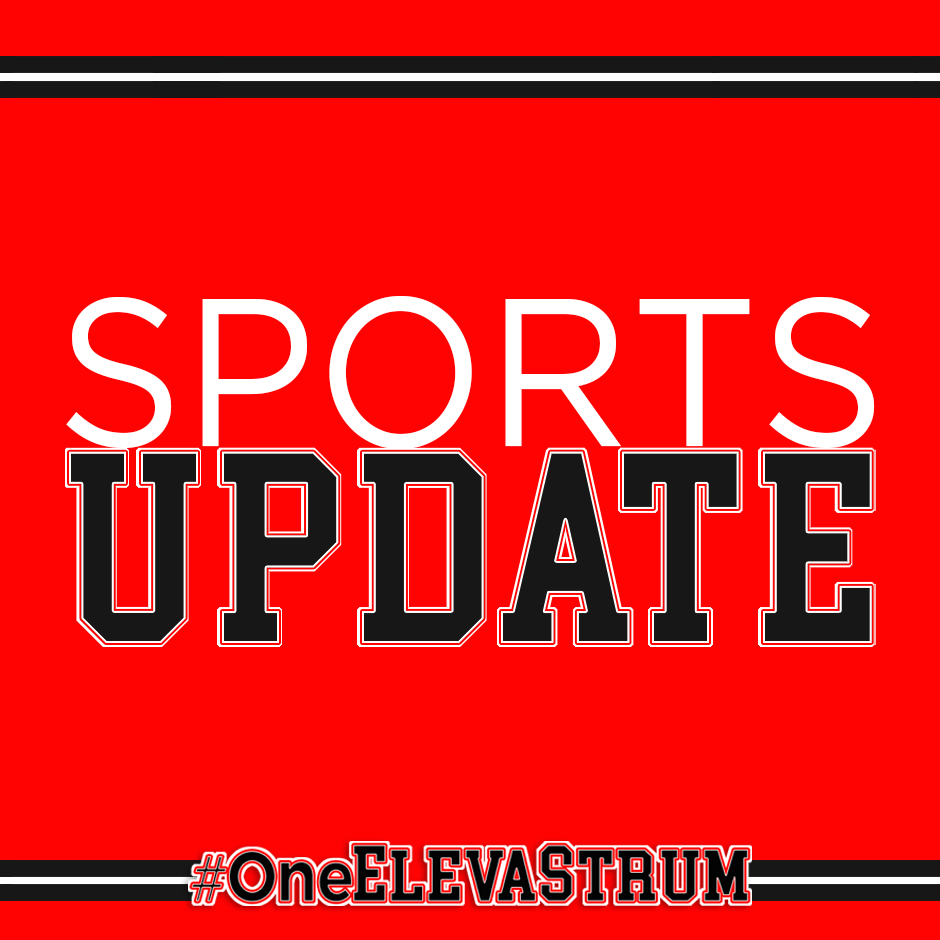 Middle School Cross Country, Volleyball, and Football will be starting on Monday, August 22nd. Athletes should have their physicals or alternate year cards completed and register on-line prior to the start of practice. On Wednesday August 24th we will have a middle school athletic code meeting for parents and athletes at 6:30 in the auditorium. This coincides with our open house so students can come in early and find their lockers and meet their teachers.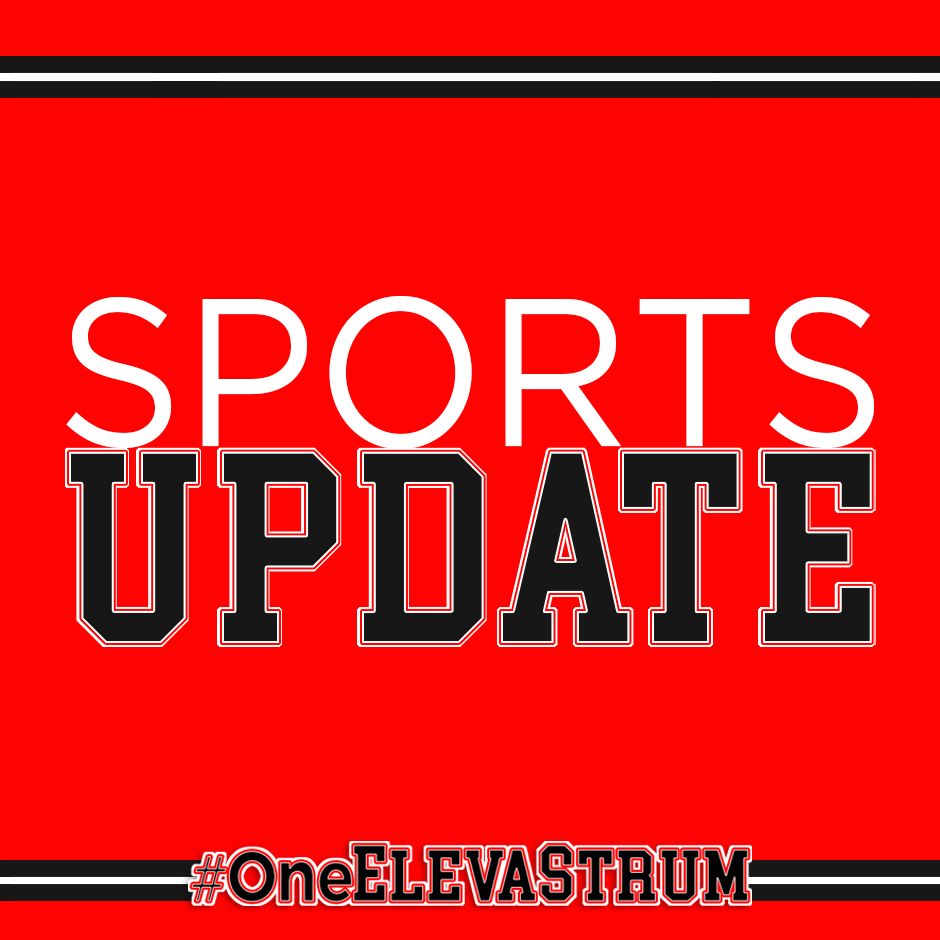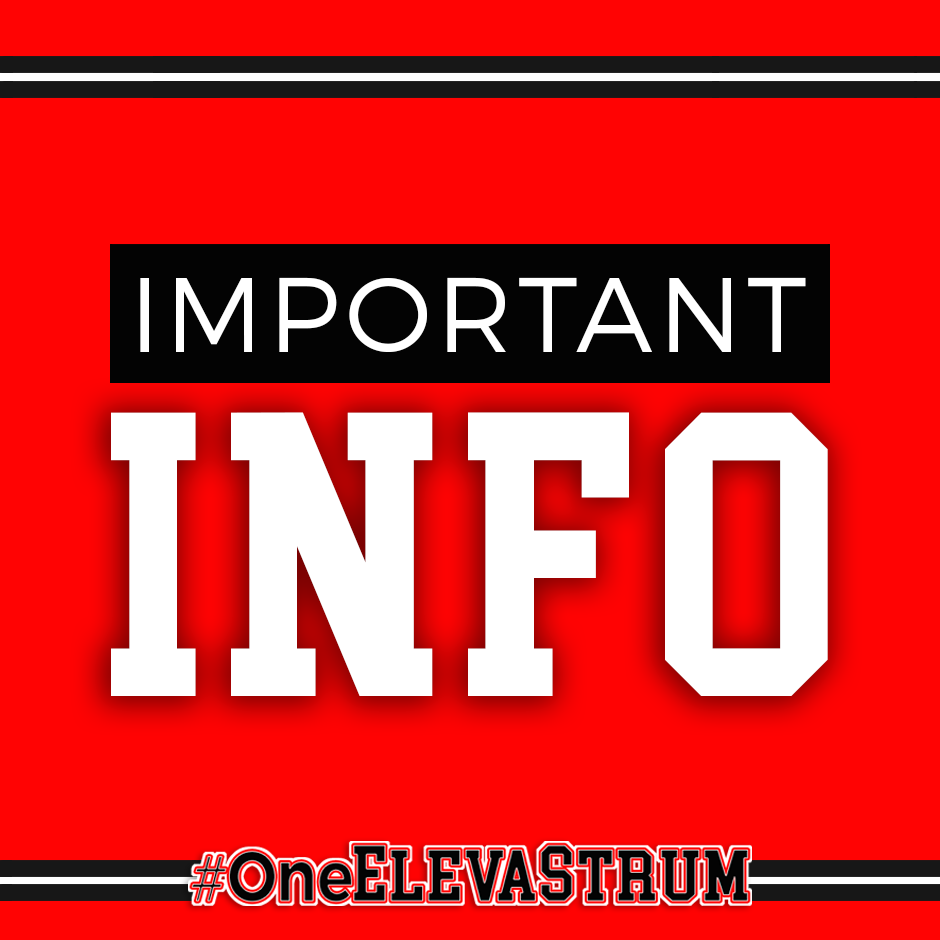 Due to the inclement weather on Tuesday, February 22, Feed My People Food Bank will not be able to distribute at the high school. We are sorry for the inconvenience.

Due to the impending cold on Tuesday the 25th of January, Feed My People Food Bank will not be able to distribute at the high school as they typically have. We are sorry for the inconvenience, and we hope to continue with the food distribution as regularly scheduled.

The JV and Varsity Boys Basketball game scheduled to be played at Cochrane-Fountain City on Friday, December 10th, has been postponed due to the impending winter storm. We will let you know when we have re-scheduled the game.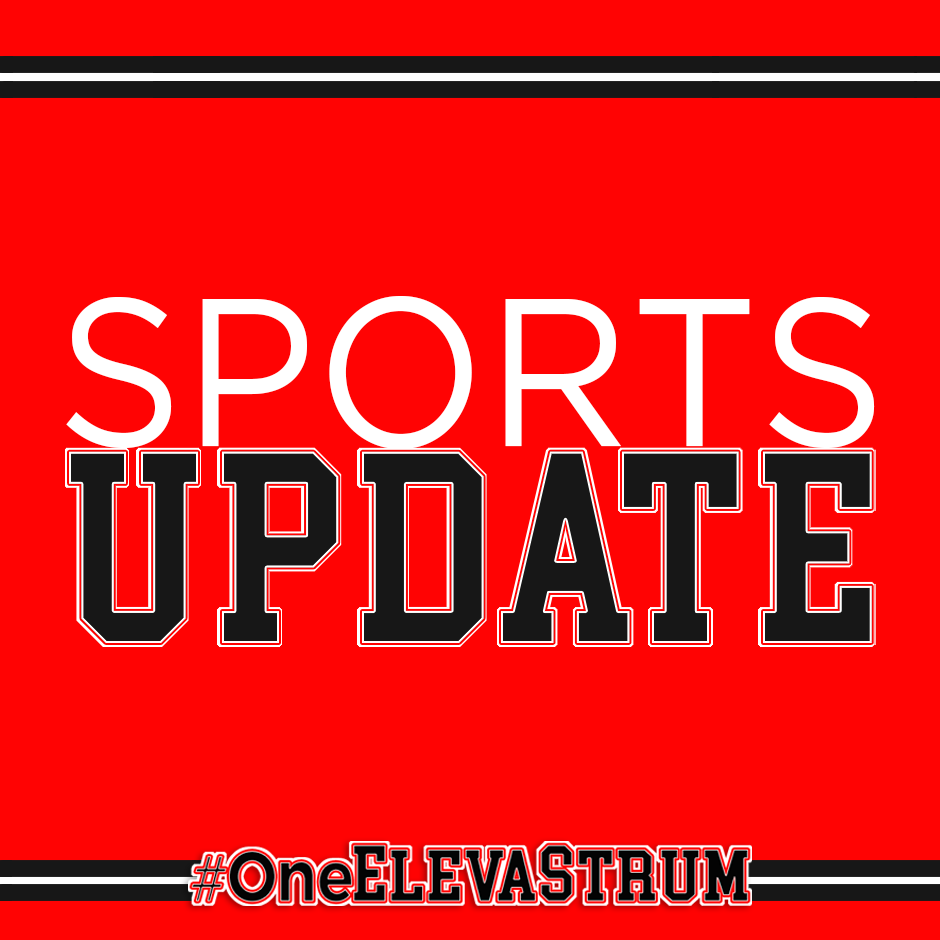 Cardinal Families, The 2021-22 School Year has just about arrived. This is just a note and reminder that pictures will be August 27, 2021. If your child is not here on that day we do have a make-up date of October 6, 2021. If you have a change in busing or you are new to the district please go to the school website and fill out the transportation form that is linked to the site. Thank you, Marty J. Kempf

Parents, below you will find the Student Transportation Form. The form must be completed ONLY if one or more of the following apply: 1. STUDENT DID NOT RIDE THE BUS LAST SCHOOL YEAR, DUE TO REMOTE LEARNING, BUT WILL RIDE THIS YEAR 2. NEW TO THIS SCHOOL OR REGISTERING A NEW STUDENT 3. ATTENDING SAME SCHOOL AS LAST YEAR, BUT MOVED TO A NEW ADDRESS 4. ATTENDING SAME SCHOOL AS LAST YEAR, BUT NEED TO UPDATE PICK-UP/DROP-OFF 5. NEED TO UPDATE CONTACT INFO 6. NEED TO CANCEL TRANSPORTATION. Here is the link:
https://bit.ly/2V7eswY

Cardinal Families, This is a reminder for families that have children attending swimming lessons and/or the reading program. Masks are required on the Eleva-Strum School Buses during these summer school opportunities. They are optional once the students are at school. Thank you-

Cardinal Reminder, The attached image is a copy of the summer school letter sent home earlier this year. It has times and bus pick-up locations. Swimming and reading here we come. M. Kempf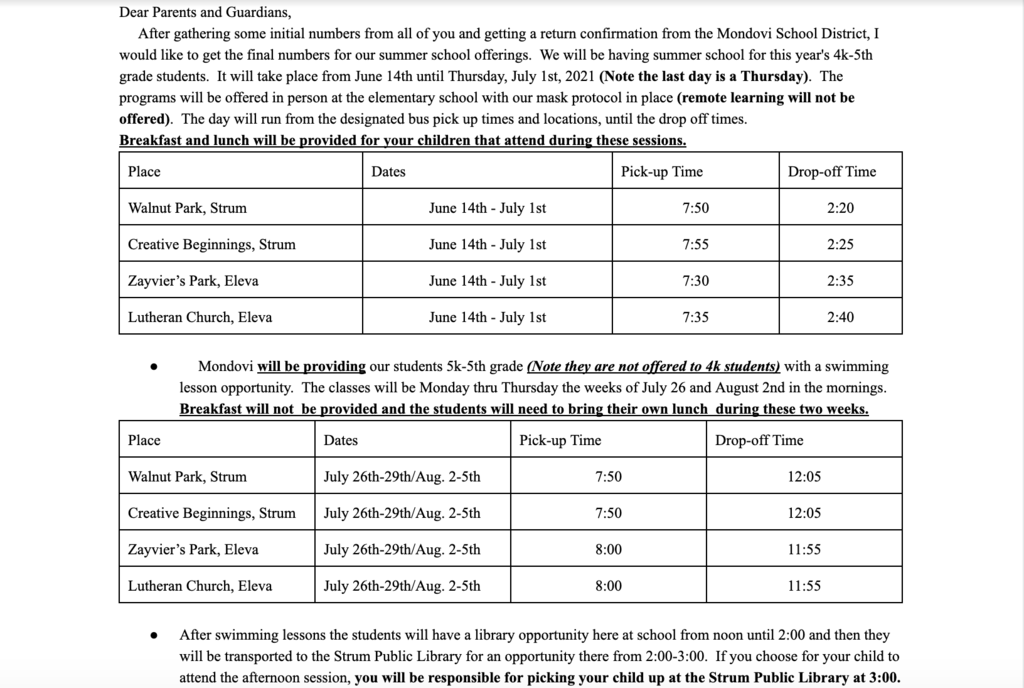 Happy Summer Everyone, This is a reminder that swimming lessons and our reading program will start next Monday if you signed your child up to participate. Have wonderful day~ M. Kempf

Hello Cardinals, Just a quick reminder that summer school will begin on Monday, June 14 for those that signed up. Please refer to the information sent home for details. Have a wonderful evening. Marty Kempf

Eleva-Strum Parents and Guardians, This is a reminder that on the final day of school, June 4th, there is a half day for the students. The first buses and students that get picked up will be dismissed at noon, followed by the second bus dismissal shortly afterward.

This is a reminder that the students of Eleva-Strum do not have school on Monday, May 3, 2021. Enjoy your long weekend~

This morning we received a few reports that our marquee by the highway displayed an erroneous message about a major school board announcement today. There is NO major announcement. Thank you.

4-27-21 Dear parents and guardians, Hello everyone, I just have a couple of important notes for you as we wind down our school year. I am putting them in list format so they are easy to look back on. 1. Monday, May 3rd the children do not have school 2. Please return any summer school forms you may have 3. Student pick-up and drop-off at the front doors of the elementary school. (I am trying to eliminate the possibility of any accidents.) a. The children that are being picked up will be released at 3 pm. b. Please park in the open spots in the parking lot and walk to get your children or c. Line up in a single file line and move forward slowly to pick your child up. When you get directly in front of the doors your child/children will be able load into your vehicle (we cannot have people parked 3 wide and students running between cars). d. If you have elementary children and MS/HS students that you are picking up please park in a parking spot in order to keep the flow of traffic moving through, the MS/HS kids are released a little later than the elementary kids 4. Please be aware of the school vans that need to exit their parking spots 5. 4k and 5k pick-up will remain in the same location utilizing the same process that we are currently using Thank you for your cooperation and keeping our little people safe. Yours in education~ Marty J. Kempf Eleva-Strum Principal

Save the Date! Eleva-Strum High School will be hosting a blood drive April 7th, 2021 from 12:30pm - 5:30pm. Schedule an appointment online at
http://bit.ly/giveapril7
or call 877-232-4376. Click the following link for more information:
https://bit.ly/3clSc6R

The Cardinal Pride PTO is sponsoring a creative reading challenge for our 4k-5th grade students. Since it is National Reading Month they are asking that you listen to the story The Most Magnificent Thing read by Jen from our partner CESA 10 and either have your child/children draw or create a Magnificent Thing. Once that is complete, please take a picture of it and send it too:
escardinalpridepto@gmail.com
One student's creation will be selected from those that participate and get a Magnificent Prize. All photos need to be submitted by Monday, March 15, 2021. Enjoy the story with your family.
https://ensemble.cesa10.k12.wi.us/Watch/Rf2a3C9Z